Informativo
GRADUATE PROGRAMS OFFERED BY UFV HAVE EXCELLENT PERFORMANCE IN CAPES' QUADRIENAL EVALUATION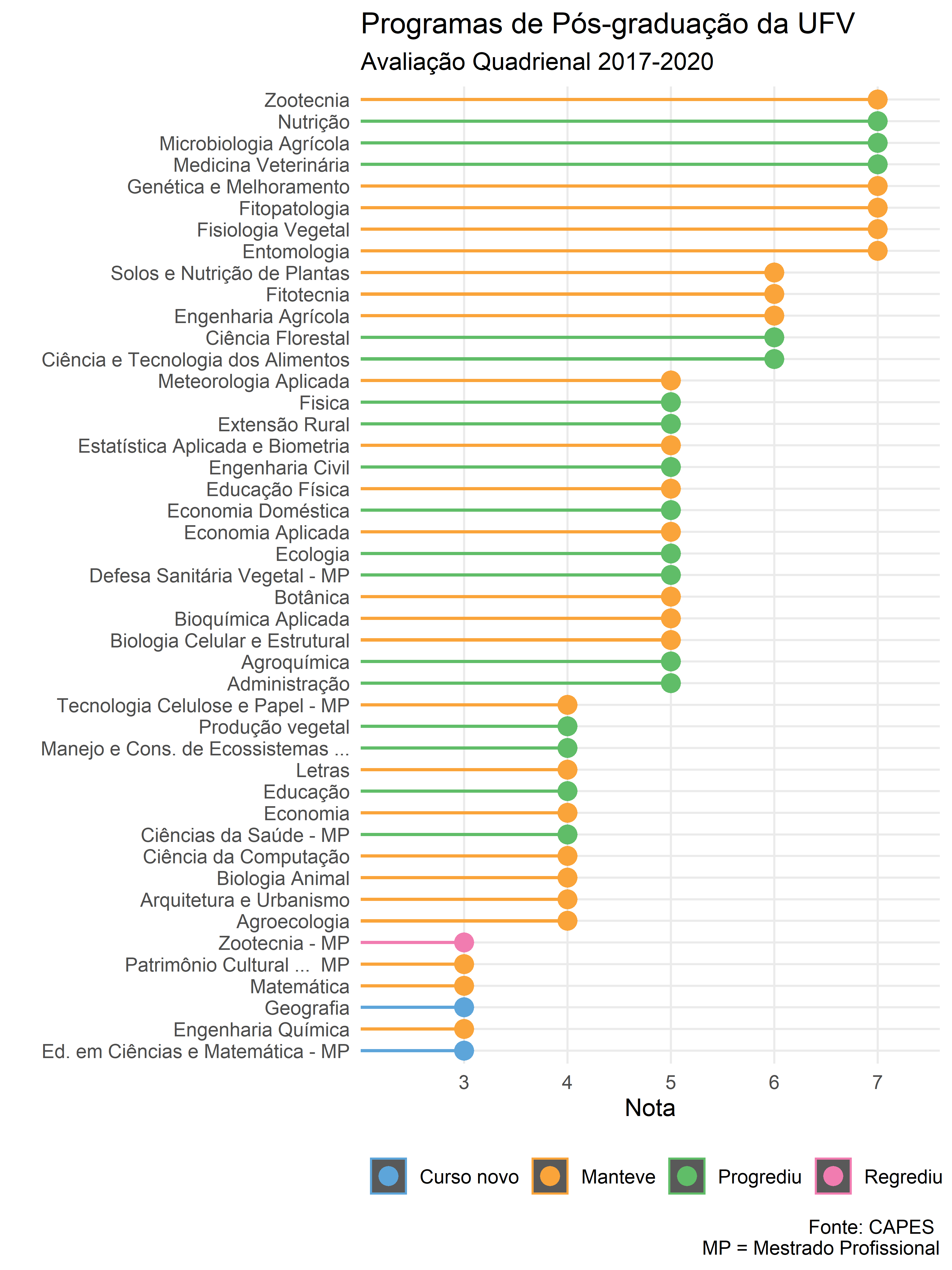 UFV had an excellent performance in the periodic evaluation of postgraduate courses released this Monday (12) by the Coordination for the Improvement of Higher Education Personnel (Capes). Of the 45 stricto sensu graduate programs (PPGs) offered by the University, 17 progressed in the four-year assessment. Of these, three reached the maximum grade for the first time, 7, in addition to the other five that maintained the same concept. As a result, almost a third of UFV's PPGs are considered to be of international level.
    The result refers to the 2017/2020 period and was being eagerly awaited by the programs, since Capes modified the evaluation system and expanded the requirements for completing the reports in 2019, requiring a rapid adaptation from the programs.
The PPGs in Veterinary Medicine, Agricultural Microbiology and Nutrition Science progressed to the maximum grade.
    The Forest Science and Food Science and Technology programs increased from 5 to 6. Another seven increased from 4 to 5 and four increased from 3 to 4 in Capes' rating. It should be noted that, for PPGs that only offer a master's degree, the maximum grade is 5. Good news also for the PPG in Management and Conservation of Ecosystems, at the Florestal Campus, and Vegetal Production, in Rio Paranaíba, which progressed from 3 for note 4. According to Capes, the result is preliminary with an opening for resources. Therefore, there is still the possibility of further progressions.
    Since 2019, with changes in the evaluation parameters, the Dean of Research and Graduate Studies has organized Working Groups to support course coordinators in completing the reports, a fundamental task for the evaluation. According to the Dean, Raul Narciso Guedes, the coordinating committees were able to adapt very well to the changes imposed by Capes, which was fundamental for the final result. "The good performance in practically all courses is unprecedented in the history of UFV since the beginning of the evaluations. Our challenge is to maintain what has been achieved, now that we are already in the period of consolidation of these new evaluation criteria", said the pro-rector.
    Also according to Raul Guedes, the Dean's Office is committed to collaborating with the programs in the internationalization process and monitoring graduates, items that are part of Capes' new requirements. "If before the focus was on the productivity of supervisors, now the professional success and scientific production of researchers trained by the institutions gain enormous relevance and we will find ways to follow up, as well as to encourage even more the participation of students and professors in networks international research institutions", said the pro-rector. The Dean's Office will also act in guiding the improvement of programs that can still progress in the next evaluation.
Source: Disclosure Institutional at UFV
---
Institutional disclosures are restricted, as determined by electoral legislation, until the Superior Electoral Court formalizes the end of the 2022 elections.
---