Informativo
UFV RESEARCHERS PARTICIPATE IN ARTICLE PUBLISHED IN SCIENCE ADVANCES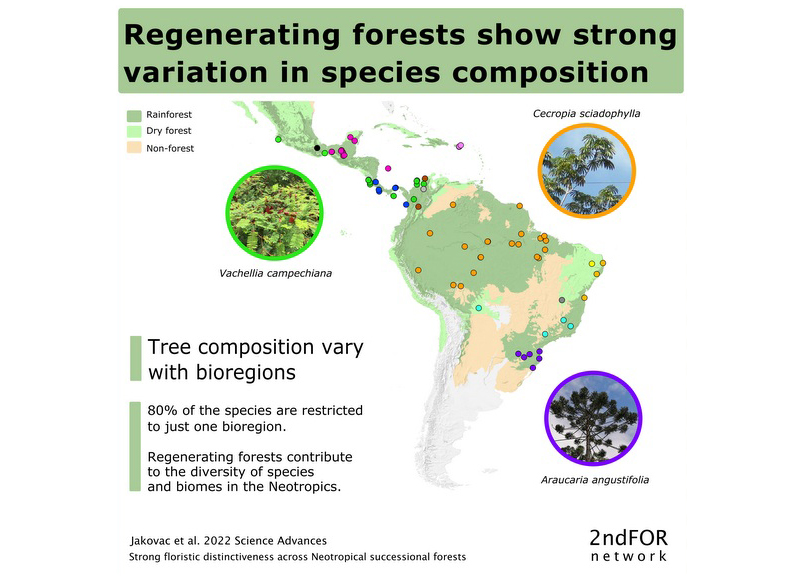 Professor Sebastião Venâncio Martins, from the Department of Forestry, and postdoctoral fellow Pedro Manuel Villa are among the co-authors of the article Strong floristic distinctiveness across Neotropical successional forests< /em>, published last week in Science Advances.
The study, carried out by the international research network 2ndFOR, which involves more than 100 researchers from 18 countries, shows that forests undergoing regeneration in abandoned agricultural areas are not all the same and can help restore and conserve different ecological regions (biomes) in the Americas.
The team of ecologists who participated in the study established 1,215 plots in regenerating forests from western Mexico to southern Brazil. They found a large variation in tree species between regions, resulting from a combination of the continent's evolutionary history and current environmental conditions. The researchers found that the species composition of regenerating young forests is highly variable across the continent, forming 14 distinct floristic regions. This surprised them, as it was thought that these young forests would be dominated by the same small set of generalist pioneer species.
The study indicated that global changes can induce changes in species composition, leading to a homogenization of these forests and reducing the diversity of biomes on a continental scale. To avoid and mitigate such consequences, researchers suggest paying close attention to species selection and prioritizing local species in forest restoration actions.
The full article can be accessed at: tinyurl.com/5n6c58sb.
Source: UFV Institutional Dissemination
Institutional disclosures are restricted, as determined by electoral legislation, until the Superior Electoral Court makes official the end of the 2022 elections.
---